Fire Protection Engineering and Risk Consulting
Rollinger Engineering, Inc. provides a wide range of fire protection and risk consulting services; from preliminary design stage through final acceptance by the Authority Having Jurisdiction.
High Pile Storage Plans
REi® prepares fire protection drawings consisting of site plan and high pile storage drawings; detailing access doors, access roads, sprinkler protection, storage arrangement, and other factors as required.
Commodity Classification & Sprinkler Evaluation Reports
REi® conducts facility surveys to determine commodity classifications.  We evaluate sprinkler systems; preparing computer hydraulic recalculation of existing systems.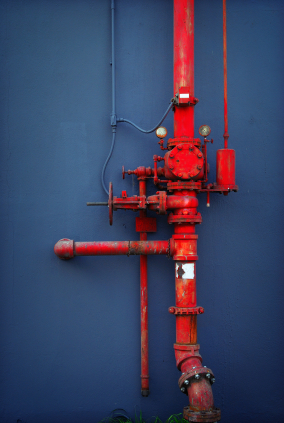 Development of Hazardous Materials Inventory Statements
REi® prepares HMIS based on Manufacturer's Safety Data Sheets, referenced properties of chemicals, and reported storage (open and closed use amounts) as required by Fire Code.
Outdoor Storage Area and Tank Farm Evaluation
REi® reviews outdoor storage of products, including tank farms, noting required compliance; including set back requirements, containment, fire apparatus access roads, emergency venting calculations, and other factors as applicable.
Inspections of Fire Protection Systems
REi® provides inspections of fire protection systems to assure compliance with the requirements of both the Fire Marshal and NFPA Standards.  We witness tests of fire pumps, standpipe systems, private and public water supplies, and fire alarms systems.  We present and interpret the test results, and offer recommendations for compliance.
Witness Public Fire Hydrant Tests to establish available water supply and calculate available fire flow.
Blueprint & Specification Review
REi® reviews commercial and industrial projects to assure compliance with Fire & Building Codes and NFPA Standards.
Fire Protection Specifications
REi® prepares specifications for fire protection suppression systems, fire alarm systems, firewalls, fire doors, interior finishes, and emergency systems.

REi® PROVIDES FIRE PROTECTION SERVICES
TO A WIDE VARIETY OF ENTERPRISES
Air Separation Plants
Automotive
Chemical & Petrochemical
Chemical Laboratories/Physical Laboratories
Chemical Storage
Industrial Coatings
Compressed Industrial Gases
Computer
Explosives
Fiberglass Lay-up
Food Industry & Warehousing
Grocery Distribution
Hazardous Waste Processing
Healthcare/Hospital
Industrial Hoses
Insulation
Lubricant Manufacturing
Manufacturing
Mining
Oil Distribution
Pesticide
Pharmaceutical & Cosmetic
Plastics Manufacturing
Power Generation
Printing
Public Warehousing
Soft Drink Manufacture & Bottling
Textile & Garment
Tire Manufacturing & Distribution
Universities
Warehousing Operations
Wind Power Generators
Wire & Cabling Manufacturing